Here are some of the letters received from our customers:
I would also like to take this opportunity to thank yourself, John and your team for the work you have done to get my roof back to a safe condition. Thank you so very much. Dean October 2023
Thank you for the brilliant job your roof repairers did, so grateful. The roof looks amazing, we are very happy with the finished product. Jenelle May 2023
Thank you so much for the wonderful job you have done with the roof, it looks great. I'll be sure to pass on your details to my friends who may need roofing work done in the future. Danni April 2023
Thank for the EXCELLENT WORK and your help. John October 2022
Thank you. Great Job as always!  Colin August 2022
Hi Christine, Your crew did a great job – I really appreciated the clean up.
Cheers Cherie August 2022
Thanks. We appreciate your professional service. Ross June 2022
Thank you John, Christine & team. Just wanted to say thank you for the wonderful job on our roof, your service and leaving the place clean. it is greatly appreciated. Thanks Lindsay Oct 2021
Thanks so much. Really appreciate your help with the repairs. You have been great to deal with. Will be keeping your number just in case of a hail storm. Peter September 2021
Many thanks for all your help and work well done. Beryl September 2021
Special thanks to all those who worked hard to fix my roof. It will be great knowing that the roof will be watertight during heavy rainfalls.
Margaret July 2021
Thank you for the good job. Regards Michael July 2021
Great Work, very pleased. Kindest Regards Roger & Joan June 2021
You did a great job 🙂 Please thank the boys on behalf of the owner. Louise June 2021
Thank you very much for your prompt services.100% customer satisfaction from me. Thank you Scott Feb 2021
Thank you for the quick callout and excellent work. Alex July 2020
It has been a pleasure doing business with you!
Warm regards Jennine July 2020
Thank you for your fantastic service. Kerry June 2020
Just a note to thank you for the work carried out on our roof today by Kurt. He is a professional treasure to your business who knows what he is doing,he is very quick and has pride in what he does. Barry & Irene Jan 2020
Thank you for the roof restoration service that Caboolture Roofing Service provided. I was happy with the pragmatic approach that you took to the work to be undertaken to restore my roof and the recommendation that you made. Kurt was an absolute professional in his conduct and dedication to doing the best he could to deliver me a quality outcome. Please don't hesitate to contact me should you need a reference for a future customer. Richard Jan 2020
Thank you and also your installer for your excellent service.
Kind regards Wayne Jan 2020
Thank you for your great work on our roof and the timely manner in which we were able to arrange for the work to be done. We were very happy with all aspects from quote to completion. Cheers Ian and Rhonda Dec 2019
Thanks so much to you, John and your staff. The service was fantastic.
Frank Sept 2019
Thanks again for a great job done and fantastic service.
Kathryn July 2019
Always been helpful punctual and have always done a great job thanks. Angus July 2019
Very knowledgeable and helpful in fixing my roof. I like that they were prompt, reliable and good communicators too.
Lynette June 2019
I would also like to say thanks to all of the team at Caboolture roofing for tiling our new roof on our new addition to our home. You guys carried out the job quickly and professionally and left the site tidy.
If we need a roof tiled again, we will give you guys a call.
Paul July 2018
Once again I thank you for your professional an efficient service. In my 5 plus years in Real estate I have been able to rely on Caboolture Roofing Services to save many contracts of sale from crashing. After a roofing issue is identified in a building inspection report many purchasers will consider pulling out of a contract due to roof repairs being required sometimes time is limited before a property settles. With a call to Chris & John I can always be assured they can attend to a job sometimes even on the day of the request ensuring the buyer is happy to proceed with the sale. They have always gone above and beyond my expectations and I would happily recommend there friendly service to any client.
Thanks!  Matthew Waller
Compliments to the work done, conduct  and the condition you left my property in go to all your team.   Thanks.  Roy April 2018
I have worked with a lot of contractors over the years and I would rate my experience with you all as one of the BEST!.
Thank you for a job well done. Bruce Feb 2018
I would like to take this opportunity to let you know I appreciate the quality and commitment to service that you show.  Your quote, free unlike some others, was comprehensive and you took the time to thoroughly explain what did/didn't need to be done in the way of repairs. The 'boys' doing the work were friendly and professional and it was good to see John come in after the work was done to make sure everything was completed to his high standards.  Along with doing an excellent job at a reasonable price, is obvious that customer service and satisfaction are very important to you. Thanks again Andrea Nov 2017
Just wanted to say how great they were. They were on time, polite, clean and tidy. I've  been really impressed with how hard they worked throughout the day. Victoria July 2017
Just to touch base and pass on my thanks for such a great job done with my roof cleaning yesterday.  It has come up fantastic and the young man who done the job is  a credit to your business. He put my mind at ease and kept me informed all the way with things like broken tiles etc. so a big thanks to Caboolture Roofing for a great job done yet again. Kerry July 2017
Thanks for all work done on my roof! It's been a smooth professional service and I'll be sure to recommend you to friends and family. Christy July 2017
We would also like to say how much we have appreciated your prompt and efficient service which came with respect and good humor among the crew who worked so diligently the entire time they were here. I am anticipating that the leaks have been repaired successfully as it has been totally inspected by 'the boss' and your thorough investigation has been reassuring for us. I will be happy to recommend your service to anyone needing roof repairs and will certainly contact you if further work is needed in the future.
 Regards to you and your team, June and Jeff  January 2017
Hi Chris, just want to thank Tom and the boys for such an awesome job. Your team are excellent, polite and the clean up after they were finished. They even went the extra mile and closed our gates. Once again tyvm ???? July 2016
Dear Christine & John, Thankyou for you your efficient and professional service. It is very much appreciated. June 2016
Thank you so much for your excellent service it is much appreciated. June 2016
Thank you so much. I have been so happy with the service. You have all made this very stressful time a lot nicer for us. I will most definitely be recommending you to anyone and everyone who needs a hand with their roofing.  May 2016
Hi John & Christine, Thank you so much for a job well done. Am so glad I was told about you. Good honest trademen are hard to find these days. April 2016
How is this for a great way to say Thanks. David Caboolture March 2015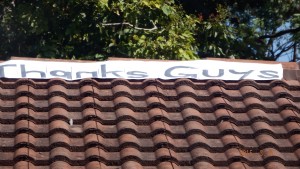 Like all of us, I have read and benefited from many honest reviews and testimonials but have never been inspired to write one. Caboolture Roofing Service changed that.
From my first meeting with Christine and John, to the completion of the scheduled works, I found them to be experienced, organised and professional.
I accompanied John on to the roof to discuss a significant valley problem causing water ingress. John readily identified the cause and what he would do to remedy it. He uses simple terms and outlined the scope of the works and the costs involved. I believe the price was very competitive and accepted.
Leading up to their attendance, Christine maintained excellent communication during a period of poor weather to make the final arrangements.
Again John attended with his team and over viewed the process to completion. I personally inspected the work and found it to be of high quality.
John also offered to write a report detailing his findings to assist in a roofing warranty claim.
Thank you to Caboolture Roofing Service for restoring my faith and trust in trades people.
Kind Regards
Tony (Ningi QLD) Feb 2015
Please pass my thanks on to John and the crew for the great service provided. It is great to get a quote, get the job done on time and with a follow up to confirm that the work was done as per the quote.
Bob January 2015
Many thanks for your prompt and excellent repairs to our roof. We are more than impressed by every aspect of the work, from punctuality of arrival to the way in which everything was tidied up with not a trace of leftovers or mess. While we hope we never need your services again (we said that last time!) we wouldn't hesitate to call on them should we ever need repairs in the future.
Bruce September 2014
"We had John and Christine Bird from Caboolture Roofing Service and their group of excellent workers carry out repairs on our tiled roof in February 2014.  From the initial inspection carried out by John just before Christmas to preparation of the quote and then the preparation, repairs and cleanup, all was carried out by John and Christine's team to a very high standard.  The communication from the office and by the guys carrying out the job was excellent and helpful.  All round a great experience and I should add, good value too for the work carried out.  I would recommend Caboolture Roofing Service to anyone requiring roof repairs.  You won't be disappointed."
Robert (Morayfield) Feb 2014
Just thanking you for your prompt attention and courtesy shown for the repair of my ridge tile.  Really impressed with your service and the two gents who actually did the repair, thank you very much. Service such as this rarely exists and a welcomed treat when it does.
Sep 2013
Thankyou very much for a lovely job. Very much appreciated.   Sep 2013
             Thank you ,John and the boys for your EXCELLENT service.         Aug 2013
Thanks heaps.  You guys certainly give outstanding service. Happy to use and recommend anytime.          July 2013
             Thank you for being the people who fixed our roof. I have appreciated your friendly and professional service.    Feb 2012
Pass on my thanks to the guys that worked on my roof. They did a great job to finish in one day, and I am very happy with the finished job and would not hesitate to recommend your company to anyone. July 2010 Deception Bay

Your service was wonderful, from the day of quotation through to the end of the roofing project. Nothing was ever too much; we were kept informed at all times of the work to be carried out and when. It was efficient and friendly service, a pleasant experience. Thanks again for your efforts. Re roof at Burpengary November 2009
I can thoroughly recommend Caboolture Roofing Service to anyone. If you need your tiled roof repaired please see John and Christine Bird and their very good team. They have done a great job on our roof.
We would like to thank you for your efforts on our behalf to get the roof leak free! …… Again, thank you for your help – your tradies were great – prompt, and certainly worked hard.
May 2009 Buderim

Thankyou for your service, workmanship and professionalism in completeing my projects. Local Builder

We can't thank you enough for your understanding, so thankyou very much for your wonderful and prompt service throughout the last couple of weeks. There haven't been too many tradesmpeople that we could or would recommend, but you guys are top on our list.

Thankyou so much for your care and attention to detail. I do appreciate the way you take care of business and also of people.

Thankyou for your prompt and courteous service. Your boys also did a good job in cleaning all the rubbish and left my garden as they found it. Thanks for a job well done.

I wish to thank you for excellent service and professional business manner over and above today's practices!!

Just a note to thank you for the work carried out by Caboolture Roofing at my address. I especially wanted to express my gratitude for the way in which John and his team carried out the work and kept the site safe and free of debris at all times. It was a pleasure to do business with your organisation and I will have no hesitation in recommending you to family, friends and associates. Aspley 2008